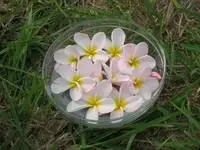 What are flower essences?
Flower essences are more commonly used in Europe and South America and are less well known in the United States. Herbal tinctures are one form of remedies made from plants and they are used primarily for physical challenges. Essential oils are another plant-based remedy and they are used for both physical and emotional challenges.


Flower essences are also plant-based remedies. Unlike herbs and essential oils, they have no fragrance and no taste. The energy and intelligence of the plant are anchored into the water and preserved with brandy. Flower essences are traditionally used to offer gentle support for moving through emotional challenges. And because what we think and feel can have such a profound effect on our physiology, I have found flower essences to be an amazing support for my clients who choose to use them.

Flower essences were first made by Dr. Bach, a medical doctor in England, in the 1930s. They are now used in many countries around the world. Companies all over the world make essences from the plants native to those areas and environments.

More about flower essences
I began using essences with my own children many years ago and have since taken a variety of training from different flower essence producers. I also helped create the Hawaiian Essences. I have received wonderful feedback from most of my clients who use flower essences and have seen many amazing changes in people over the years. I have seen essences be very effective and useful as a support for a number of challenges such as anxiety, attention deficits, sensory sensitivities, and grief.

Flower essences come in 1 oz. dropper bottles and are usually taken orally a few drops at a time. A flower essence practitioner selects a variety of different essences suited to the particular person and mixes them in a single remedy bottle. Combination essences are blends that are made by the producers and are useful for many common challenges. Personal remedies are traditionally preserved in brandy but can also be preserved in glycerine for people who prefer. In addition to being taken orally, these drops can also be put on the skin or used in the bath. Flower essences can also be used in spray form and are often mixed with essential oils. In this form, they can also be used to spray in homes or offices. I find it essential to be gentle and effective support that is useful in many life situations.