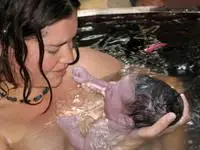 Birth is a powerful, humbling, and transformative rite of passage. So many questions come up for families who are pregnant and/or preparing to start a family. With so many choices to make, it's easy to get overwhelmed. My intention is to help families prepare to meet this important life passage with full participatory presence, both for themselves, and for their unborn babies, wherever and however they choose to birth. Conscious birthing promotes optimal maternal infant bonding and healthy physiological and emotional regulatory processes. This means babies that are more likely to eat, sleep, cuddle, digest, connect, and develop, easily and well.

Bonding begins in the womb. Prenatal bonding is a wonderful process that helps set the stage for secure attachment. I combine guided imagery, spiritual connection, and your own presence to assist you in connecting and communicating more deeply with your unborn child and paving the pathway for secure and resilient attachment.

I have been a graduate level instructor of pre and perinatal psychology.I offer supportive counseling and stress diminshing tools and strategies for pregnancy and childbirth. Of course each session is tailored to you and your specific concerns and needs. Some of the things you might look forward to experiencing include:

• A place for both parents to be heard and
resolve any fears, conflicts, or concerns they
may have about pregnancy, birth, and parenting
• User friendly and effective tools to help you
transform stress into confidence and self
empowerment
• I nformation to assist you in making educated
decisions about birth related matters
• Increased excitement and anticipation for the
new adventures ahead
• Increased sense of ease and comfort in relation
to giving birth and becoming a parent
• A head start for both parents in bonding
with your unborn child

Please feel free to call or email me for an individual or family consultation today.